Overview
---
10 days of tours all around Egypt. Stunning Giza pyramids tours, Cairo museum guided tours, walking tours in the old town, Coptic and Islamic Cairo tours, visit to the tourist market, Luxor attractions including Valley of the Kings and Habu temple, Aswan attractions with a visit to Ramses II temples at Abusimbel. Get the best of Egypt tours at the lowest possible cost.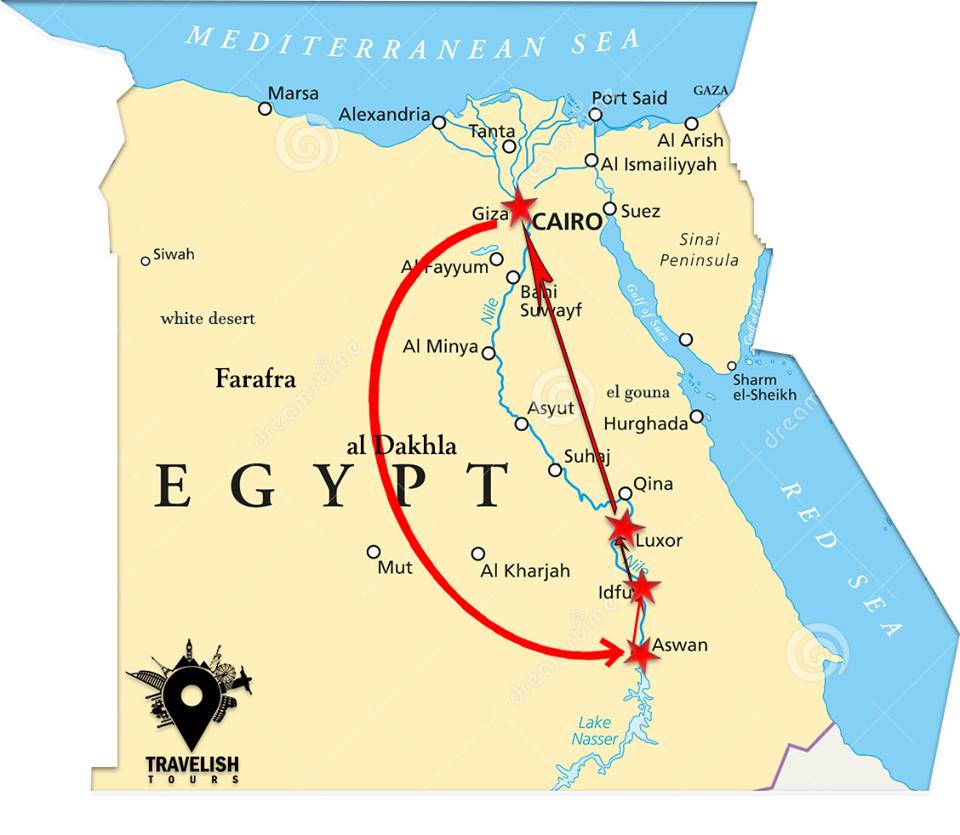 name:

Egypt Momo - The best of Egypt Budget tours

Duration:

10 day
you will visit
---
Great pyramids -valley of the kings-temple of Queen Hatsheput-colossi of Memnon-temples of Karnak-temple of Luxor-kom ombo-edfu-high Dam, the temple of Philae and the unfinished obelisk-Saqqara-Memphis-museum-khan Elkhalili-dandarah&Abydos
Momo
Egypt
Budget
lowest price
cheap
ITINERARY
---
ITINERARY (Click To Show)
cairo
Day 1: (Cairo) You will be picked up by your private tours guide. After welcome and assist with airport formalities, the guide will transfer you to your hotel for Check in and overnight.
Day 2: (Cairo) After breakfast at your hotel, start the tour with your private guide to the pyramids of Giza to see the Great pyramids. Lunch in a local restaurant, proceed to Memphis the very first capital city in the world to see the Alabaster Sphinx, Continue your tours to Saqqara where you will see the museum of great Imhotep, the step pyramid of Djoser, and the noble tombs from the old kingdom. Transfer you back to your hotel (meals includes: Breakfast & Lunch).
Day 3: (Cairo) after breakfast at your hotel, start your tours with your private tour guide to Cairo museum to see the collection of king Tutankhamun. Continue your tours to Coptic Cairo to see the oldest church, the oldest Synagogue, and the oldest mosque ever built in Egypt. Lunch in tourist restaurant, Continue your tours to Islamic old Cairo to see the ancient streets of AlQahira,do amazing walking tour with your guide in Almuez street. Visit khan Elkhalili bazaar for your shopping in Cairo(the guide will show you some whole sale shops for the lowest prices of souvenirs).Transfer you to the train station for your night train to Aswan (meals includes: Breakfast & Lunch).
Day 4: (Aswan) Arrive Aswan in the morning, welcomed and assisted by Aswan representative who will take you to check in your Nile cruise: Start your tours to The high Dam, the temple of Philae and the unfinished obelisk. Back to your Nile cruise for Lunch, continue your tours with the Felucca small sailing boats to the botanical gardens also known as Kitchenr's Island. Back to your cruise ship before dinner. After dinner, music and partying will be going on in the bar of the cruise ship (for those who prefer not to sleep so early). (Meals included: Lunch & Dinner).
Day 5: (Aswan) As early as 3 in the morning, start your tours to the great temple of Abusimbel by Ramsis II, this tour is done by bus which is around 3 hours. Back to Aswan by Lunch time, Lunch on the cruise ship. After Lunch, enjoy a free afternoon with opportunity to stroll the city market with your tour guide (Aswan Market is famous for dry dates, Herbs, and hand made souvenirs). Diner on board of your cruise ship. (Meals included: Breakfast, Lunch, & Dinner).
Day 6(kom ombo-edfu) The cruise ship navigates to Luxor with two stops, stop to see the temple of Kom Ombo in the early morning after breakfast, and then on to the temple of Edfu to see it after Lunch. Continue sailing to Luxor. Arrive at Luxor around midnight. (Meals included: Breakfast, Lunch, & Dinner).
Day 7:(luxor) After breakfast, start your tours to the western bank of the Nile to see the valley of the kings, the temple of Queen hatshepsuet, and the colossi of Memnon. Lunch on board of your cruise ship. After lunch, start tours again to the temples of Karnak and the temple of Luxor. Dinner on board of your cruise ship. (Meals included: Breakfast, lunch, and dinner).
Day 8:(dandarah&Abydos) After breakfast at the cruise ship, check out the cruise ship. Start your tours to the temples of Dandarah & Abydos: One full day trip to the great temples of Hathor and Osiris with our air-conditioned tourist coach. (Meals included: Breakfast). Check in your hotel at Luxor.
Day 9:cairo After breakfast, take seated train back to Cairo, arrive Cairo, check in your hotel, and overnight. (Meals included: Breakfast).
Day 10: After breakfast, transfer you to Cairo airport for your final departure.


inclusions
---
Egypt momo - The best of Egypt Budget tours includes:
• All Entrance fees to the sites mentioned in the detailed itinerary
• A private tour guide Egyptologist escorts you during all tours
• An air-conditioned new tourist coach with professional tourist drivers.
• All tours and transportations as mentioned in the detailed itinerary
• Pick up and drop-off services
• Luggage transfer & storage during travel
• All applicable tax and services
• Accommodation in a 3/4 stars hotels in Cairo and Luxor
• Accommodation on board of a 4 stars Nile cruise for 4 nights


exclusion
---
Egypt momo - The best of Egypt Budget tours excludes:
• Items of personal nature
• Items not mentioned in the inclusions
• any extra tickets of special exhibits not mentioned in the detailed itinerary
• Tipping (Gratuities)


extra
---
Momo
Egypt
Budget
lowest price
cheap
• Prices shown are per person travelling. 'Twin/Double' prices per person apply when there are 2 people travelling, sharing a room. 4 stars hotel (B&B)
• The 'Single supplement' applies for single travelers who require their own room and needs to be added to the 'Twin/Double' price.
• *Above prices are WITHOUT international airfare
• * Above prices are applicable all year: except for the Easter and Christmas periods.
• Easter and Christmas Supplement 10%
• Payment Policy
Reservations should be made as early as possible to book the desired Egypt tour, spaces will be secured upon receive a deposit of 10 %, This deposit forms part of your final payment. Deposits can only be made by credit cards, Pay pal, wire transfer and or Western Union
• Children Policy
0 - 01.99 Free of Charge
2 - 5.99 pay 25% of tour price
6 - 11.99 pay 50% of tour price
12+ pay full tour price as per adult person
If your tour package includes airfare then an extra charges for your children may apply.
• Booking confirmation & Vouchers:
An official booking confirmation voucher will be sent to you once your booking is confirmed & your deposit is received.
• Tipping
It is a customary attitude for expressing ones satisfaction of good services rendered to him by staff on duty with him. We advise if you are willing to offer it, this would be great and if not, you are not obliged to do it.
• Group Quote Request:
• How do I request a group quote from (travelishtours.com)?
Just send us Email requests@travelishtours.com.
• Be prepared to provide your travel dates, number of seats, departure and arrival cities for any flights. Do you have a specific budget, flexible dates/times or any other specific requirements? Let us know. Your Groups Specialist who will contact you within 24 hours.
• Group: According to airline standards, a group consists of 10 or more individuals traveling together.