Overview
---
Siwa Oasis has been considered one the most mysterious of all Egypt's oases, Siwa Oasis is also the most fascinating. The Siwan people have their own culture and customs and, as well as speaking Arabic, we speak own Berber (Amazigh) language. Travel to the isolated Siwa Oasis to see Shali, the ancient town, and the Temple of the Oracle, where Alexander the Great was named ruler of Egypt. Take a 4x4 into the desert to see the Great Sand Sea and the beauty of the desert. Taste traditional Siwan foods. Enjoy a truly unforgettable and unique cultural experience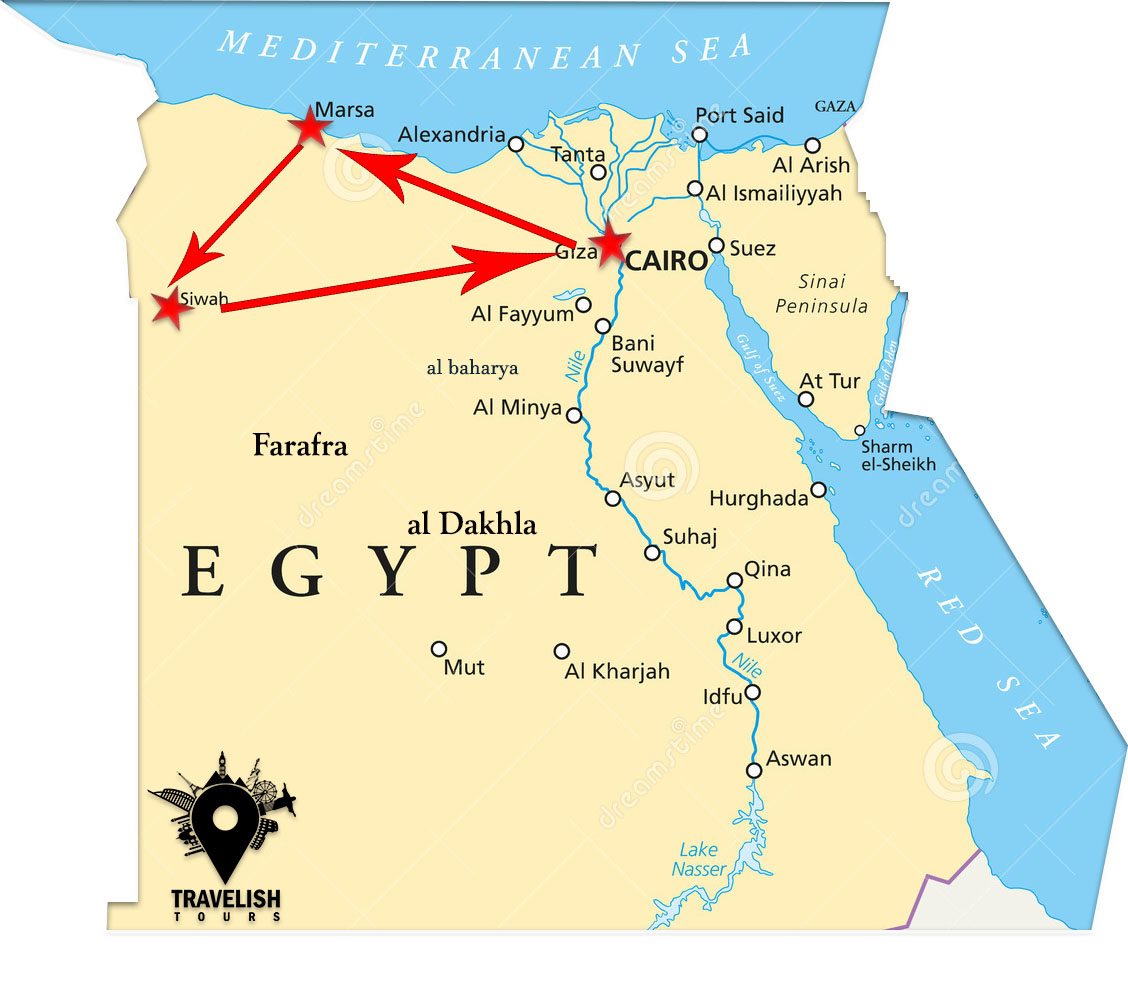 name:

Short Break at Siwa Oasis

Duration:

5 day
you will visit
---
Alexander Temple,Gabal El Maouta,Amun Ra Temple,Cleopatra Spring,Shiata Lake,
Siwa
Desert
Local
explore
safari
ITINERARY
---
ITINERARY (Click To Show)
cairo
Day 1:Alamein & Siwa
At 6:00 am Pickup from your Hotel in Cairo by our expert tour guide and transfer you to Alamein. You will enjoy the site where the great battle took place during WW II, There we visit the WWII Museum and the War memorial. Lunch en route, upon reaching Siwa, dinner & overnight at our hotel in Siwa
Meals: Lunch, Dinner
Day 2: Siwa Sightseeing
After breakfast, enjoy a visit to the Old City of Siwa ( Shali).Then transfer to see the Alexander Temple is dedicated to the God Amon- 26 Dynasty and then see Amun Ra Temple at Um Ubeyda. After that head to visit Cleopatra Spring (Ein Guba). Finish your trip seeing the Siwa House Museum. In the afternoon transfer to enjoy the unique Sunset view at most of the guide books at Fitnas Island. Overnight in Siwa.
Meals: Breakfast, Lunch, Dinner
Day 3: Shiata Lake - Bir Wahed
Breakfast at hotel – Start our journey at Siwa Desert with Maraki Village. visit Great Siwa Mountain where is the first human footprint above the mountain which date to pre-history era.
Continue our Safari tour between the dunes till we arrive at the fossils area and see the rocky coral reefs which date to Cambrian era.
Then drive to one of the spring eyes at the middle of the desert (Shiata Lake) and it is a good chance to watch the Flamenco birds and swim at cold spring and enjoy the bath and relaxing atmosphere.
There is another chance to enjoy the sand surfing at the desert.
After that it is time to drive to another hot spring which is called (Bir Wahid) spring for chilling and tranquilizing our Muscles.
Back to the hotel and overnight.
Meals: Breakfast, Lunch, Dinner
Day 4:Siwa Oasis
Breakfast at the hotel then visit the tombs inside the Mountain of the Dead ( Gabal El Maouta ) enjoy watching some interesting tombs like SI Amon, MSW Isis, Crocodile Tomb. After that see Dakrour Mountains, Then transfer to Abu Sherouf, one of the Siwan Villages to enjoy the Bedouin style life and enjoy the Roman Spring eye. Back to your hotel. Dinner and overnight in Siwa.
Day 5: Back to Cairo
After breakfast, transfer to your accommodation in Cairo.
Meals: Breakfast


inclusions
---
• Pick up services from hotel in Cairo & return
• Accommodation in Siwa for 04 nights
• Breakfast and dinner are included at the hotel
• All sightseeing tours mentioned in the itinerary
• All transfers from Cairo to Siwa and back by an A/C vehicle
• All transfers inside Siwa by 4x4 car
• English guide during your trip
• Entrance fees to the mentioned sightseeing
• Lunch during sightseeing tours in Siwa
• Meals as mention in the above itinerary.
• Portage when needed
• All taxes & service charge


exclusion
---
• International Airfare
• Entry visa to Egypt
• Any optional tours
• Soft Drinks at a hotel in Siwa
• Personal spending
• Tipping


extra
---
Siwa
Desert
Local
explore
safari
• Prices shown are per person travelling. 'Twin/Double' prices per person apply when there are 2 people travelling, sharing a room. 4 stars hotel (B&B)
• The 'Single supplement' applies for single travelers who require their own room and needs to be added to the 'Twin/Double' price.
• *Above prices are WITHOUT international airfare
• * Above prices are applicable all year: except for the Easter and Christmas periods.
• Easter and Christmas Supplement 10%
• Payment Policy
Reservations should be made as early as possible to book the desired Egypt tour, spaces will be secured upon receive a deposit of 10 %, This deposit forms part of your final payment. Deposits can only be made by credit cards, Pay pal, wire transfer and or Western Union
• Children Policy
0 - 01.99 Free of Charge
2 - 5.99 pay 25% of tour price
6 - 11.99 pay 50% of tour price
12+ pay full tour price as per adult person
If your tour package includes airfare then an extra charges for your children may apply.
• Booking confirmation & Vouchers:
An official booking confirmation voucher will be sent to you once your booking is confirmed & your deposit is received.
• Tipping
It is a customary attitude for expressing ones satisfaction of good services rendered to him by staff on duty with him. We advise if you are willing to offer it, this would be great and if not, you are not obliged to do it.
• Group Quote Request:
• How do I request a group quote from (travelishtours.com)?
Just send us Email requests@travelishtours.com.
• Be prepared to provide your travel dates, number of seats, departure and arrival cities for any flights. Do you have a specific budget, flexible dates/times or any other specific requirements? Let us know. Your Groups Specialist who will contact you within 24 hours.
• Group: According to airline standards, a group consists of 10 or more individuals traveling together.